Slush machine is designed to freeze juices, low alcohol cocktails to a thick, snowy mass with a consistency similar to ""wet snow"". The drink perfectly quenches thirst and is a popular delicacy in street cafes, bars, fast food enterprises and other crowded places.
EQUIPMENT INSTALLATION
Install the slush machine on a stable horizontal surface. The surface shall be dry, clean and able to withstand the equipment weight.
The equipment shall be protected against direct sunlight.
There shall be the free space of at least 25-30 cm along the slush machine perimeter for the proper air circulation.
Connect the power supply.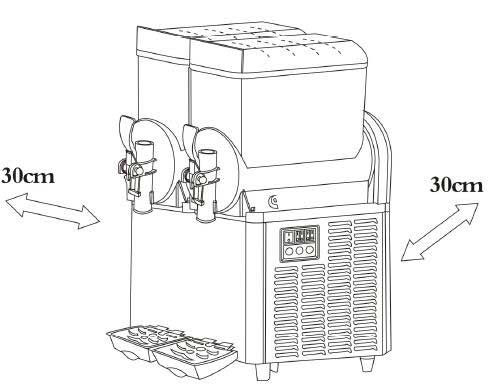 IMPORTANT
Temperature of ingredients loaded into the slush machine shall not exceed 35°C; higher temperature may affect the cooling system and result in early failure of the equipment.
Mix shall contain at least

13% of sugar

. Pay special attention to this when selecting ready-made mixes. Lower sugar content will result in the excessive freezing of the main components and failure of the equipment.
Mix level shall be above the screw level at all times, do not forget to monitor its status.
PREPARATION
Turn on the power.
Turn on the mixing mode in each hopper.
Turn the cooling on.
Use adjustment knobs if necessary.
There are 5 levels of adjustment: [0] -no cooling, [I], [II], [III], [IV] –cooling intensity increase.
Once the acceptable beverage temperature is achieved, put the glass to the dispensing outlet and slightly press the lever; the beverage will be poured into the glass.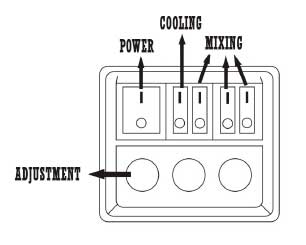 MAINTENANCE AND CARE
Turn off the power before any maintenance. Do not clean the equipment using any abrasive materials, metallic sponges and brushes, pricking and cutting items, aggressive chlorine-containing cleaning agents, gasoline, acids, alkalies and solvents. Do not wash detachable equipment assemblies in a dishwasher.
To comply with sanitary regulations, timely wash the equipment components and provide the careful maintenance.
Turn off the cooling of beverages.
Drain remaining liquid.
Flush the hopper with clean water.
To remove the hopper, pull it, first upwards and then towards the outlet tap. Then, re-move the mixing device components.
Pull out the pin and remove the handle of the outlet tap. Rinse all components with soap solution.
Repeat all the above in reverse order to assemble the equipment.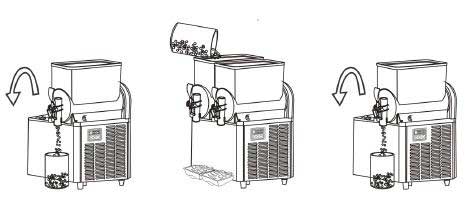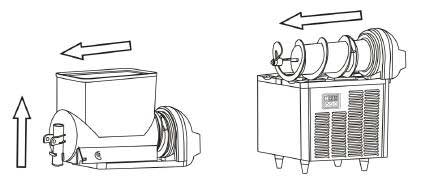 Dodatne informacije
Prevoz iz
Hrvaška
Barva
Srebrna
Garancijo
2 years
Garancijo za HORECA
2 years
Tehnični podatki

Housing material: stainless steel
Tray for liquid
Temperature range: -2 to -3 °C

Equipment characteristics:

Model 1 tank

Power: 0.5 kW Voltage: 230 V
Tank capacity: 15 liters
Dimensions: 288x550x740 mm
Weight: 40 kg

Model 2 tank

Power: 0.6 kW Voltage: 230 V
Tank capacity: 2 * 15 liters
Dimensions: 425x550x740 mm
Weight: 45 kg

Model 3 tank

Power: 0.8 kW Voltage: 230 V
Tank capacity: 2 * 15 liters
Dimensions: 603x550x740 mm
Weight: 63 kg

Upper base
Internal cover
Hopper
Piston
O-ring
Outlet tap handle
Spring
Pin
Hopper sealing ring
Mixer internal part
Mixer external part
Left and right panels
Condenser
Front panel
Tray grid
Liquid collection tray
Evaporator
Support
Magnets

Copper ring
Mixer plate
Mixer motor
Mixer rear cover
Rear panel
Plate
Transformer
Solenoid valve
Legs
Compressor
Compressor starter
Compressor fuse
Fan motor
Fan blades
On/Off switch
Cooling switch
Cooling adjustment switch
Mixing switch
Switch box