No steam wand required!
Ultra-powerful version with 3.7V Li-ion rechargeable battery and two-speed options. The best microfoamed milk you can produce without a steam wand.
Makes superfine microfoam
Microfoam milk has bubbles so fine, you don't even see them anymore, the milk is transformed into a velvety texture. Pouring this milk is more like pouring wet paint, than it is pouring foamy milk.
Stunning Velvet Textured Milk
Better tasting, better looking and better textured coffees.
How do you like it?
Three Easy Steps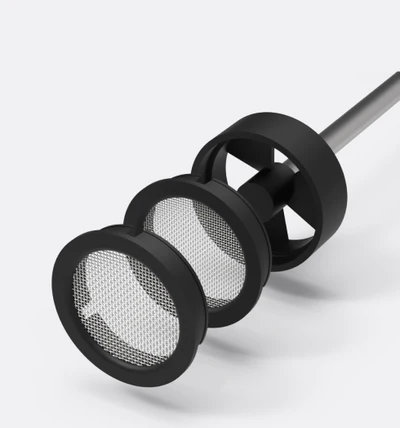 Choose
Select a NanoScreen to suit your preferred microfoam type: Superfine, fine, or ordinary foam.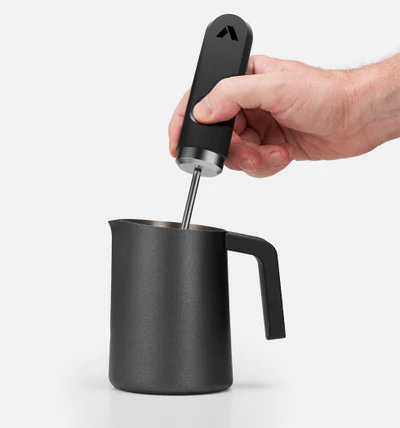 Churn
Churn your warm milk for about 15 seconds. Start in the middle to incorporate air, then move to the side to continue churning and blending the foam.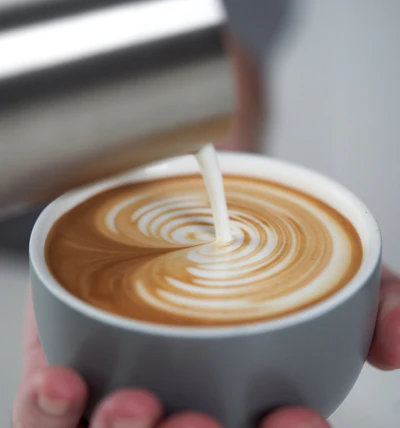 Pour
Pour your perfectly microfoamed milk over espresso. It should feel like pouring paint. Draw a heart, rosetta or something abstract!
Wall Mount
Keep the NanoFoamer handy by your coffee station on the wall mount, or protected by the hood in your drawer.
Cleans Easy
We made our NanoFoamers waterproof so you can rinse them after each use without a worry.
Whats new
Improved Waterproofing

Overall better seals on the closures and shaft.

Better Motor The upgraded motor is more powerful, built to tighter tolerances, and more reliable.
Stainless Steel Housing The motor housing is now made of real brushed stainless steel for a far more premium experience.
More Stable Shaft Tighter tolerances deep inside the motor translate directly onto the shaft's stability. Spinning dead center is key to spinning fast and reducing vibrations.
On/Off Digital Switch The upgraded button is a feather-light on/off switch, allowing you to focus on the foam while holding the NanoFoamer as lightly as a pencil.
Safety PCB Auto shut off after ninety seconds to prevent the ultra-fast motor from overheating the housing.
New Battery Housing The internal design is as beautiful as the outside, with the batteries fitting directly into the handle and connecting with premium spring-loaded contacts.
Reduced Vibrations The new internal design is built to much tighter tolerances, keeping everything snug to reduce all vibrations from the handle.
All New Engineering Better internal engineering with sonic welded components instead of snap-fitted parts.
Package contents
One USB-C to USB-C cable
Two NanoScreens
One Protective Hood
One Adhesive Wall Mount
One User Manual
One Certificate of Authenticity
Access code for Latte Art Master Class
Dodatne informacije
Država proizvajalka
Kitajska
Prevoz iz
Hrvaška
Barva
Črna
Garancijo
2 years
Poslovna garancija
1 year
Tehnični podatki

Power: 3.7V Li-Ion Battery (1300mAh)
Speed: Dual Speed (4k RPM Submerged)
Dimensions: 234 x 35 x 35mm
Weight: 135 g
Rechargeable: Yes, via USB-C
NanoScreens: Fine & Superfine
Impeller: Polycarbonate (Replaceable)
Waterproof: Yes
Protective Hood & Wall Mount Included
Patented: Yes
Ocene
Click to check all testimonials