The bamix® flagship - from professionals, for professionals
Not only in private households has this powerful all-rounder been a proven and popular kitchen aid for decades. Professional chefs are also use enthusiastic about putting its power to the test, because the robust and durable "Made in Switzerland" AC motor can easily cope with the tough demands of everyday use in gastronomy!
Brilliantly simple. Simply brilliant.
The bamix® promise provides a lifetime guarantee for the bamix® motor. 100% Made in Switzerland underlines the outstanding quality as well as years of durability. bamix® lives and promotes the idea of sustainability.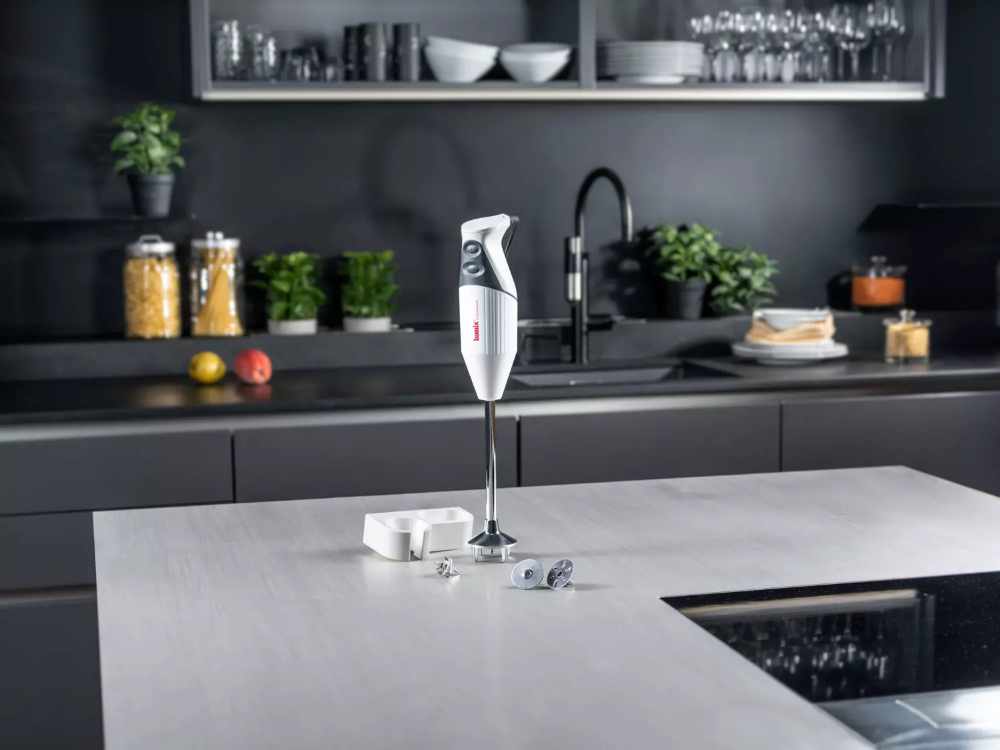 The all-in-one kitchen appliance
The bamix® is the smallest, most efficient and versatile food processor in the world. Thanks to the wide range of bamix® accessories, the bamix® is multifunctional. Crushing, chopping, mashing, whipping, grinding, pulverising and grating is no problem at all for the bamix®.
The bamix® comes with a practical wall holder and includes the multi-purpose blade, the beater and the whisk. The 200 watt kitchen aid with its durable, robust, "Made in Switzerland" AC motor can easily handle up to 20 litres of liquid. The longer drive shaft for an immersion depth of up to approx. 29 centimetres is suitable for large pots and pans. It's a master when it comes to working on the stove in a pan with boiling soup or in any other container without leaving scratches on the bottom.
The bamix® is the extended arm of every ambitious chef and no kitchen should be without it. Whether chopping, emulsifying, beating egg whites or cream until stiff, preparing mayonnaise in seconds - the bamix® is always a faithful companion in upscale gastronomy. More than just a blender - an "all-in-one" food processor that has been made by hand in Switzerland for more than 60 years. Effortless cleaning makes daily use easier.
Dodatne informacije
Država proizvajalka
Švica
Prevoz iz
Hrvaška
Barva
Srebrna
Garancijo
lifetime engine warranty
Tehnični podatki

Speed: 14.000 - 18.000 r.p.m.
Inmersion: 25 cm
Power: AC 200W
Height: 39,5 cm
Ocene
Click to check all testimonials