Cold drink dispenser machine is designed to prepare and serve cold and fresh juices. The drinks perfectly quenches thirst and is a popular delicacy in street cafes, bars, fast food enterprises and other crowded places.
EQUIPMENT INSTALLATION
Install the cold drink dispenser on a stable horizontal surface. The surface shall be dry, clean and able to withstand the equipment weight.
The equipment shall be protected against direct sunlight.
There shall be the free space of at least 15-20 cm along the dispenser perimeter for the proper air circulation.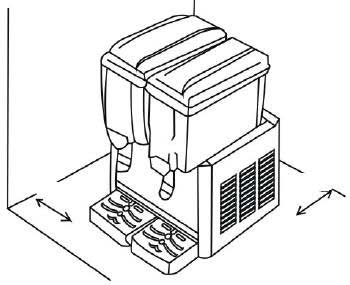 OPERATION
Check the level when pouring drinks into the hopper. Exceeding the maximum drink level in the hopper is not permitted. It may result in liquid penetration into the mixing mechanism and the equipment failure.
Temperature of ingredients loaded into the dispenser shall not exceed 35°C; higher temperature may affect the cooling system and result in early failure of the equipment.
To turn on the cooling mode, press the relevant switch; compressor cooling fan will start, and the cooling system will be activated. After that, the mixing mechanism will start.
Once the acceptable beverage temperature is achieved, put the glass to the dispensing outlet and slightly press the lever; the beverage will be poured into the glass.
Once the preset drink temperature is achieved, the cooling will stop, the compressor will start automatically at regular intervals to maintain this temperature.
Cooling cycle shall always be completed as normal. For that reason, it is necessary to re-start the equipment within 5 minutes after an accidental turning off and power it off using the switch, if necessary.
MAINTENANCE AND CARE
Turn off the power before any maintenance. Do not clean the equipment using any abrasive materials, metallic sponges and brushes, pricking and cutting items, aggressive chlorine-containing cleaning agents, gasoline, acids, alkalies and solvents. Do not wash detachable equipment assemblies in a dishwasher.
To comply with sanitary regulations, timely wash the equipment components and provide the careful maintenance.
To clean the drink feeding system: unscrew the nut [5] or turn the outlet at 90° and remove it.
Hopper
Plate
Self-driving screws
Spring
Nut
Drink feeding plate
Bush
Pad
To clear the hopper: unscrew the nut [2], remove the pad [3], the doser [4], and the blade impeller [5].
Cooling tube
Nut
Pad
Doser
Blade impeller
Positioning guide
Injection cooler
Evaporator
Hopper
Dodatne informacije
Prevoz iz
Hrvaška
Barva
Rumena
Garancijo
2 years
Tehnični podatki

Housing material: stainless steel / painted metal
Tray for liquid
Temperature range: 7-12 °C

Equipment characteristics:

Model 1 tank

Power: 0.2 kW Voltage: 230 V
Tank capacity: 18 liters
Dimensions: 345x445x700 mm
Weight: 20 kg

Model 2 tank

Power: 3 kW Voltage: 230 V
Tank capacity: 18 liters
Dimensions: 460x445x700 mm
Weight: 28 kg

Model 3 tank

Power: 0.35 kW Voltage: 230 V
Tank capacity: 18 liters
Dimensions: 710x445x700 mm
Weight: 39 kg

Cover
Stainless steel tube
Hopper
Mixer lobe
Mixer shaft
Drink feeding plate
O-ring
Condenser
Fan
Evaporator
Thermostat

Liquid collection tray
Mixer motor
Compressor
Filter
Legs
Power On/Off Button
Cooling switch
Mixer switch
Heating switch
Left and right panels
Front and rear panels