【FOOD-GRADE QUALITY】- 100% good-grade material. 304 stainless steel inner tank/Inner cap/Condensing coil/water outlet/water inlet, glass container and aluminum fan blades. Sanitary and easy cleaning.
【USER-FRIENDLY OPERATION】- Effectively removes contaminants for purest water! The unit will automatically shut off when the temperature reaches 115°C. Double buttons for start and stop, no need to plug or unplug while controlling.
【POWERFUL PERFORMANCE】- 750W powerful machine with sufficient inner container volume of 4L. The heating elements make distillation speed over a quarter gallon per hour, distill up to 6 gallons per day. Equipped with overheat protection and dry burning-resistant protection functions.
【CONSIDERATE DESIGN】- Easy assembly and clean-out, no need to purchase and replace dirty filter cartridges. With a portable handle on the top for easy carry. Both distillers and containers have large openings for easy access and cleaning.
【HOME & COMMERCIAL USE】- The water distiller removes most tap water impurities, ideal for distilling water, alcohol and so on. Perfect for labs, hospitals, dental clinics, offices, homes, travel, etc.
Distilling 4 liters in 4 hours, our efficient distiller is the safeguard for your health, it removes contaminants such as bacteria, particles, dissolved solids and VOCs to provide you clean and purified water. You may enjoy the distilled liquors just at your home.
Food-Grade Quality
User-Friendly Operation
Powerful Performance
Considerate Design
Food grade materials
All the parts that contact with liquid are made of 304 stainless steel, including inner tank, inner cap, condensing coil, water outlet, and water inlet. Featuring glass container and aluminum cooling fan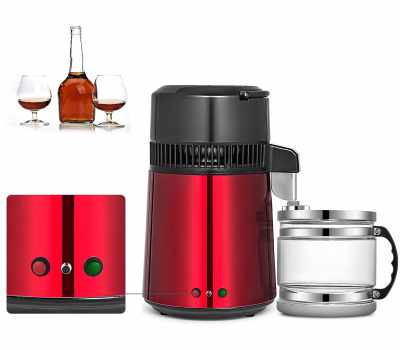 Convenient Buttons
Double buttons realize stop and start function without having to plug or unplug, more convenient than single-button design. Dry burning-resistant protection function included.
High Efficiency
With high efficiency, it takes only about 4 hours to make 4L distilled water. 50Hz 750W heating element makes distillation speed fast - downsize is output water temperature is higher and reduced warranty
Effective Heat Dissipation
The plastic wind leaf change to aluminum wind leaf, improving the cooling effect. The discharge cap changes from plastic to 304 stainless steel, improving the heat dissipation further.
Considerate & Portable Design
The upgraded filter is made of 304 stainless steel; a unique and portable handle on the top for easy carry; a built-in thermostat to prevent overheating and ensure auto-off
Wide Application
Ideal for distilling water and other distilled liquors. Suitable for hospitals, dental clinics, labs, offices, homes, etc
Dodatne informacije
| | |
| --- | --- |
| Država proizvajalka | Kitajska |
| Prevoz iz | Hrvaška |
| Barva | Rdeča |
| Garancijo | 2 years |
| Tehnični podatki | |
Ocene
Click to check all testimonials