The Sana Horeca EUJ-909 is the first auger-driven commercial juicer. This type of juicer is unique in the commercial market, and has many advantages over the centrifugal juicers that are typically used in juice bars, restaurants, and fitness centers.
Unlike centrifugal juicers which can exceed 100 decibels, the 60-rpm operation of the Horeca juicer is very quiet. It's the first thing you notice when you turn it on. Also, because auger-driven juicers extract much more juice from fruits and vegetables than centrifugal models, the Sana Horeca EUJ-909 can significantly save money by requiring less produce for the same amount of juice. There is far less pulp, the taste is sweeter, and the consistency is much smoother with almost no foam. Low speed operation practically eliminates oxidation, meaning juice can be stored up to 24 hours and maintain its flavor, look, and nutritional value.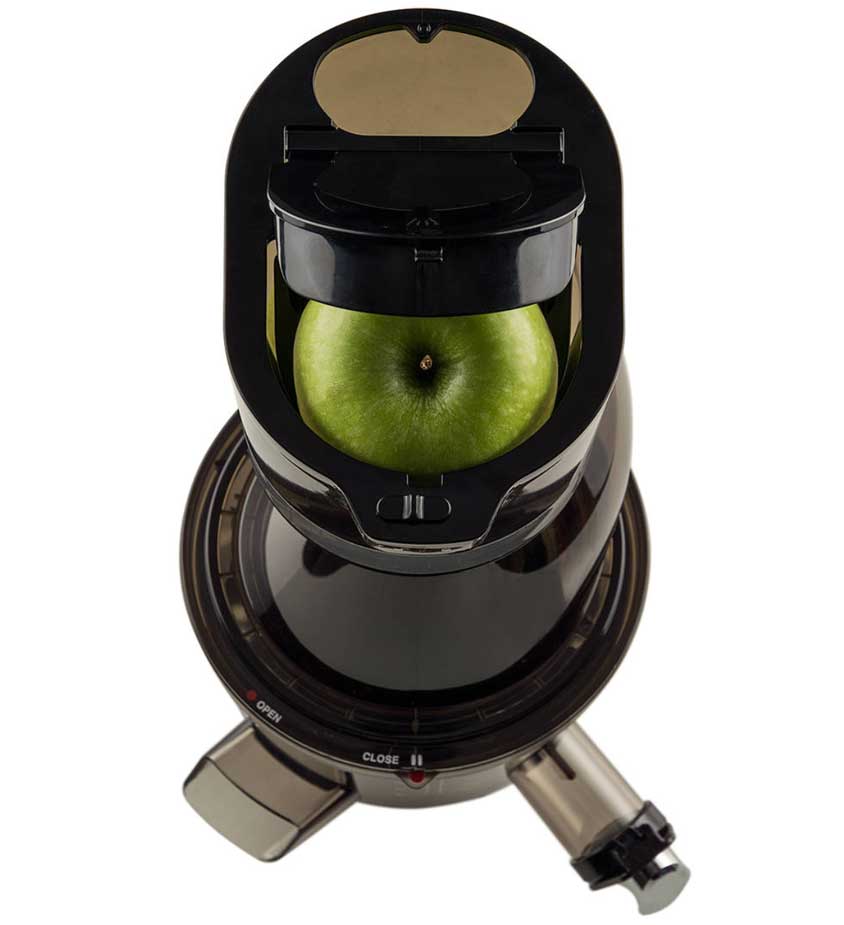 A major requirement of juice bars and restaurants is to be able to make a lot of juice quickly. Despite operating at only 60 rpm, the EUJ-909 produces a good volume of juice in a short amount of time. Because it has an extra-large feeding tube (88 mm), cutting and preparing of produce is minimized. It can even take smaller varieties of apples whole without any preparation.
In addition to being able to be quickly rinsed between juicing, when it needs to be cleaned the process is fast and simple. There are just a few parts that are easily removed from the unit and only need to be rinsed under running water. The only part that requires any cleaning is the juicing screen, which is quickly scrubbed under running water with the included cleaning brush.
That is why this juicer is delivered with additional juicing head assemblies. This allows you to switch between two different juices without any cleaning. For example, you can have one juicing head dedicated for citrus, and the second for a carrot/apple combination. This really increases the versatility of this juicer.
With three optional screens, you can do even more with the Sana Horeca. The homogenizing screen crushes ingredients together without extraction, which is perfect for things like fresh peanut butter, ice creams and sorbets, and sauces. The smoothie screen extracts juice but doesn't eject the pulp. It's great for making fruit smoothies, like a strawberry smoothie with almond milk. The coarse screen is similar to the included fine juicing screen, but has larger holes so it is helpful for softer or pulpier produce like pineapple or berries..
One unique feature of this juicer is the juice cap, which acts as a tap and can be closed during juicing. This allows you to mix different types of produce together in the juicer, or even add other ingredients such as milk, yogurt, or alcoholic beverages.
The juice cap has another benefit: between juicing different fruits (or mixing drinks), you can add water to the juicer and let it run for a few moments, and then open the cap to drain it. Because the 909 has rubber cleaning blades that continuously clean the strainer, this cleans out the juicer quickly and easily.
Dodatne informacije
Prevoz iz
Slovenija
Barva
Srebrna
Garancijo za HORECA
2 years
Tehnični podatki

All the parts that come in contact with the juice are made from BPA-free materials and can be washable in dishwasher..

Induction AC motor 200 W i 60 RPM
24 hour operation
Low noise - max 45 dB
Extra wide tube 88 cm - can insert whole apples, pears, oranges (pealed)
Two complete juicing head assembly
Three different strainers
Brush and pro strainer cleaner
Dimensions (w×d×h) – 230 x 175 x 515 mm
Weight – 9,1 kg